รายละเอียด
CREATED TO CAPTURE EVERY ADVENTURE
Equipped with upgraded 2k motorcycle helmet camera specifications, the 10C Pro shoots in crisp QHD (1440p/30fps or 1080p 30/60fps) with a resolution of 3.7 MP (16:9) and an increased 135 degree field of view. The 10C Pro also features Smart Audio Mix™, which mixes audio from the intercom and music from your smartphone straight into your video.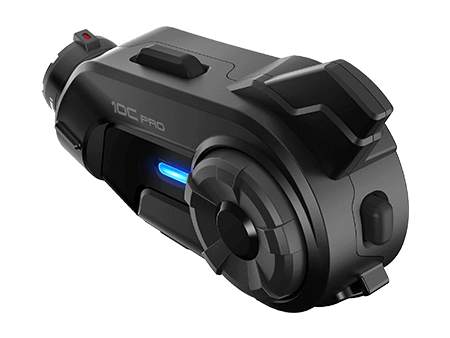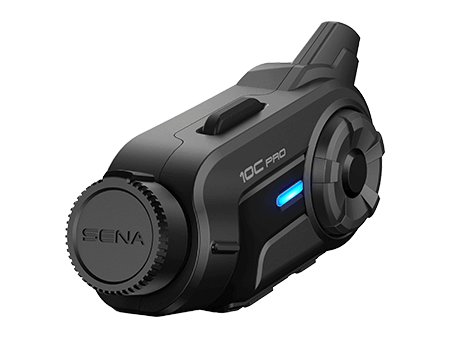 4-WAY UNIVERSAL INTERCOM CAPABILITY
Stay in touch with up to three other riders via built-in Bluetooth intercom up to 1.6 km (1.0 mile) away. The 10C Pro motorcycle Bluetooth helmet camera and communication system allows riders to take and make phone calls, listen to music and GPS, connect with onbike entertainment systems, use the built-in FM tuner and more. Integrated voice prompts advise riders on the use of their device with instant status updates of their 10C Pro.
PREVIEW IMAGES AND CONFIGURE SETTINGS WITH SENA SMARTPHONE APPS
Using the Sena Camera App, users will have the ability to preview footage being shot on their 10C Pro QHD motorcycle helmet camera directly on a smartphone through built-in WiFi, and even instantly download files. In addition to the Camera App, linking up your 10C Pro with the Sena Headset App (for Android or iPhone) allows you to configure device settings and access an interactive Quick Start Guide.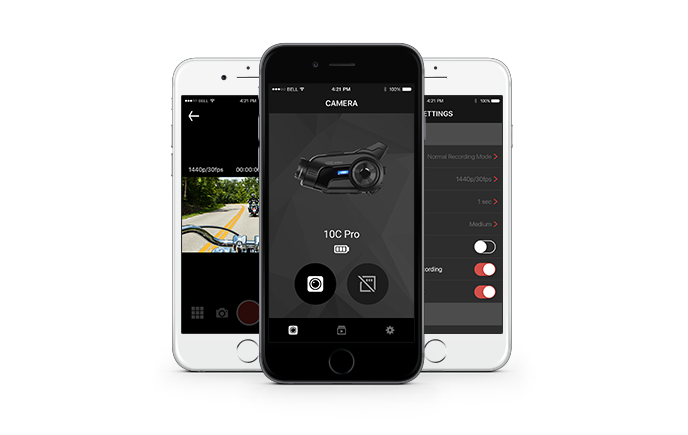 Features:
Bluetooth 4.1
WiFi enabled
Unibody design for Bluetooth headset and video camera
1440p QHD video with 3.7MP still shot image capture
Video mode: 1080p:60fps, 1440p: 30fps
Versatile photo mode: shot, burst and timelapse shot functions
Pitch angle adjustment
Lens rotation up to 30 degrees
Bluetooth intercom up to 1.6 kilometers (1.0 mile) in open terrain
Four-way intercom
Voice prompts
Smart Audio Mix to mix your voice and music into your video
Smartphone Camera and Headset App for iPhone and Android
Advanced Noise Control
Universal Intercom
Music sharing
Built-in FM radio tuner with a station scan and save function
Optional Handlebar Remote support (sold separately)
Easy operation by versatile Jog Dial
Water resistant for use in inclement weather
Can be used while charging on road trips
Supports MicroSD memory cards up to 64 GB (sold separately)
Firmware upgradeable
General Features:
Talk time: 17 hours
Recording time: 2 hours
Operating temperature: -10˚C ~ 55˚C (14°F ~ 131°F)
WiFi: 802.11 g/n
Dimensions

Main module: 107 mm x 60 mm x 31 mm ( 4.2 in x 2.4 in x 1.2 in)
Speaker: driver unit 36 mm – thickness 6.5 mm
Boom microphone length: 190 mm
Wire length between speakers: 555 mm
Weight (module): 90 g (3.17 oz)
Bluetooth:
Bluetooth 4.1
Headset Profile (HSP)
Hands-Free Profile (HFP)
Advanced Audio Distribution Profile (A2DP)
Audio Video Remote Control Profile (AVRCP)
Intercom:
Working distance (intercom): up to 1.6 kilometers (1.0 mile) in open terrain
Up to 4 riders
Audio:
Built-in SBC Codec

Advanced Noise Control
Wide volume control
Sample rate: max. 48kHz (DAC)
Optical:
Field of view: 135 degrees
Aperture f/2.0
Video Mode:
Resolution

1440p 30fps QHD
1080p 60fps
1080p 30fps
3.68MP (16:9)
Photo Mode:
Resolution: 3.68MP (16:9)
Timelapse Mode:
Photo & Video
Single pic per 1 / 10 secs
FM Radio:
Built-in FM radio with RDS AF (Radio Data System Alternate Frequencies)
Radio region: worldwide
Radio frequency specifications: 64 ~ 108MHz
10 preset station memory with automatic scan function
Radio on time: 8 ~ 10 hours
External Memory:
MicroSD memory cards up to 64 GB (sold separately)
Battery:
Charging time: 3.5 hours
Type: Lithium polymer battery
Note: Some of the above features require updating to the latest firmware version. The firmware is a free download from Sena Technologies.